BITRIX
A business solution for communication and collaboration for businesses. This software unite the tools classically belonging to corporates intranets with social collaboration elements to form an optimal virtual work platform.
CRm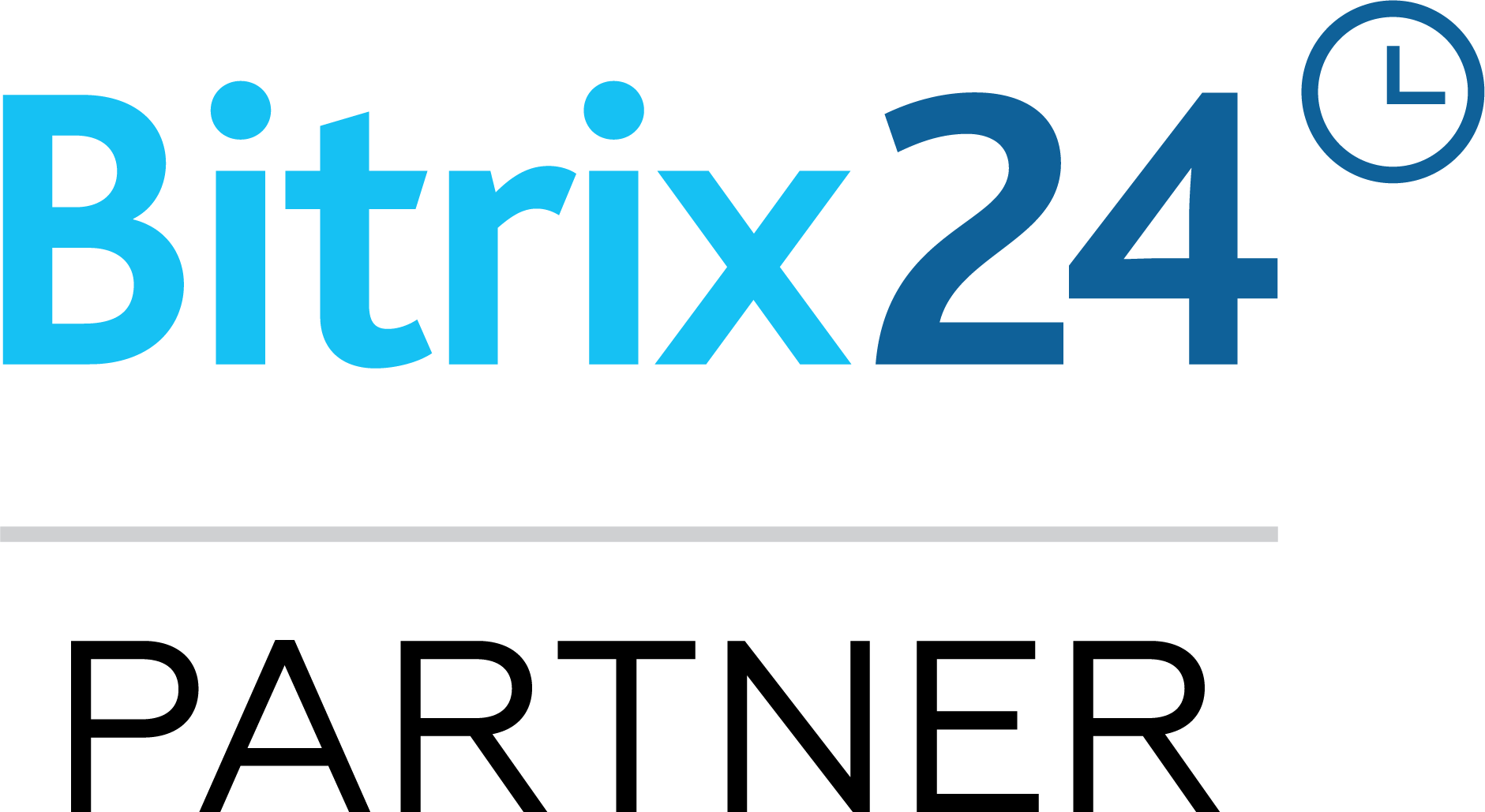 24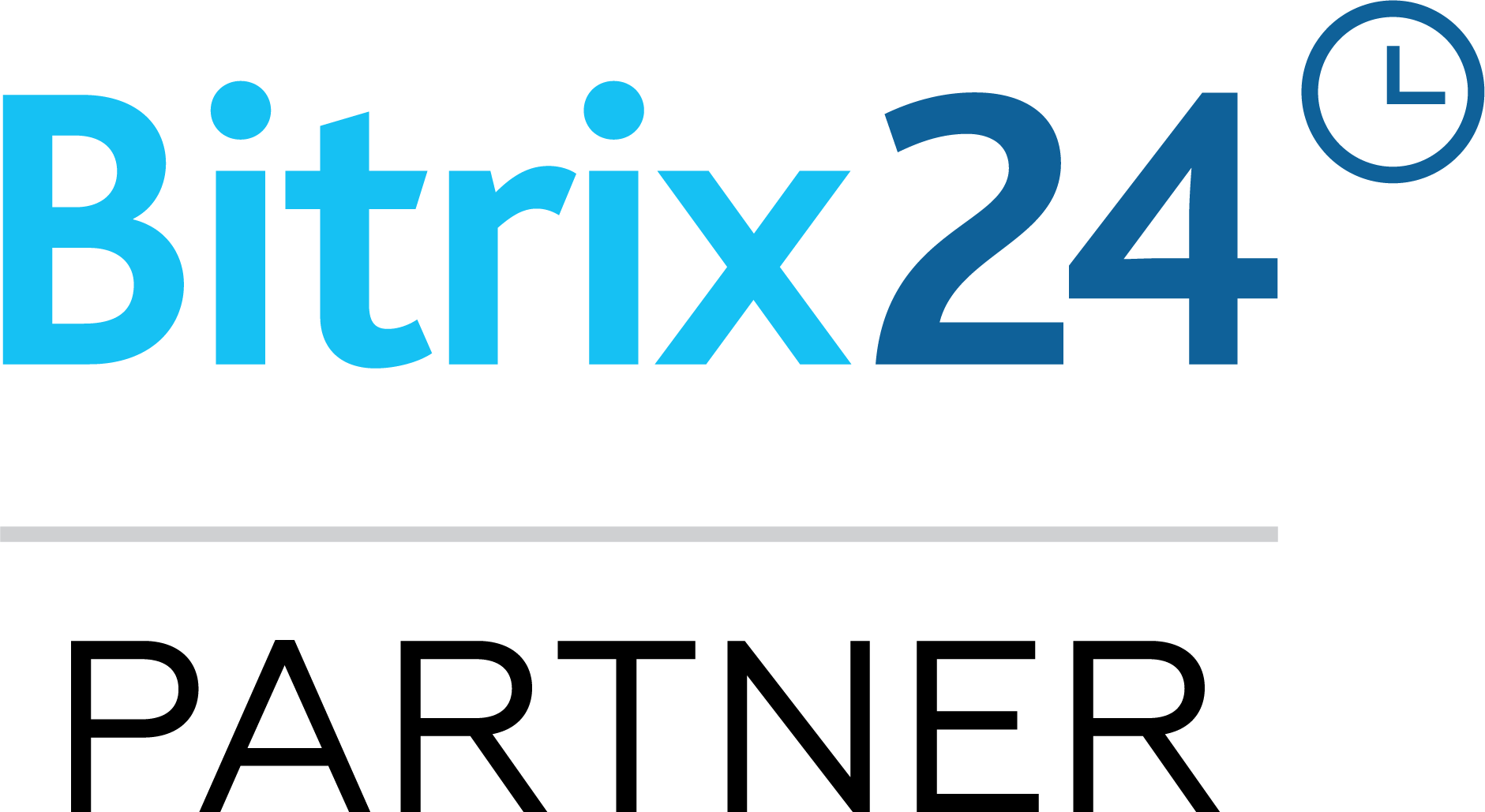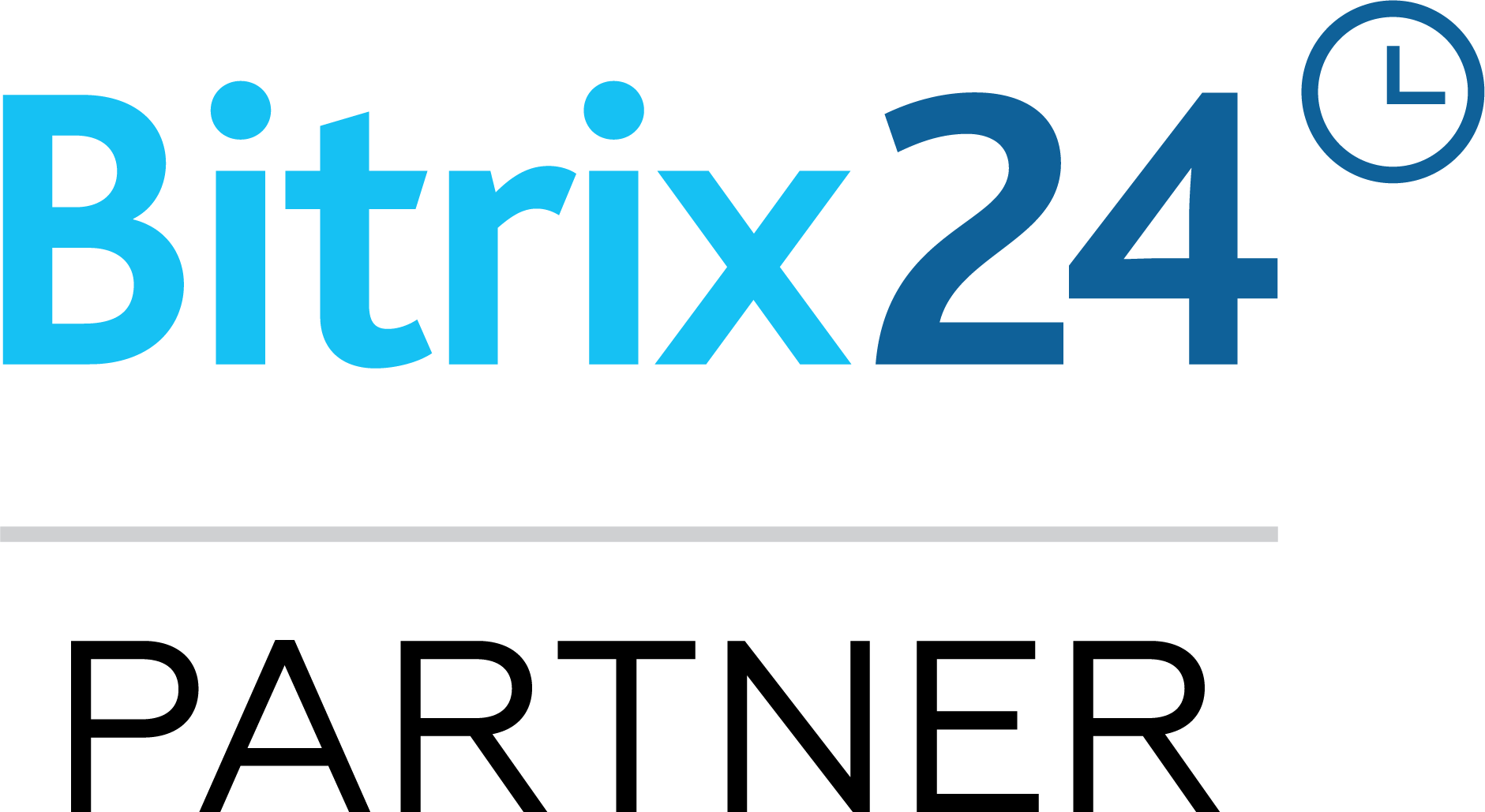 Viion - Certified Bitrix24 Partner
BITRIX24
- all in one management software
FREE COLLABORATION SUITE WITH 35+ TOOLS
Bitrix24 is a software service that enhances the business experience for an individual, team or a whole company. It integrates communication tools, management tools and features that enrich the business experience.
Bitrix24 allows managers to organize, manage and implement their day to day activities with ease. Keeping in touch with clients and employees at the same time had never been easy before.
Employees can easily stratify their work into sequenced tasks. This allows an innovative way to complete their jobs on a timely basis without the worry of the deadline.
VIION is a Bitrix24 Partner, with high-level IT specialists and certified Bitrix24 professionals. We have consulting services to assist companies succeed in their businesses and optimize web presence.
Our sales and consulting services covers following topics:
Bitrix has been efficiently and effectively enhancing the experience of various firms in terms of documentation. Educational institutions, web development firms, business companies etc have been benefiting from our document automation system. Let us enhance your business too with state of the art automation through our accumulated business experience.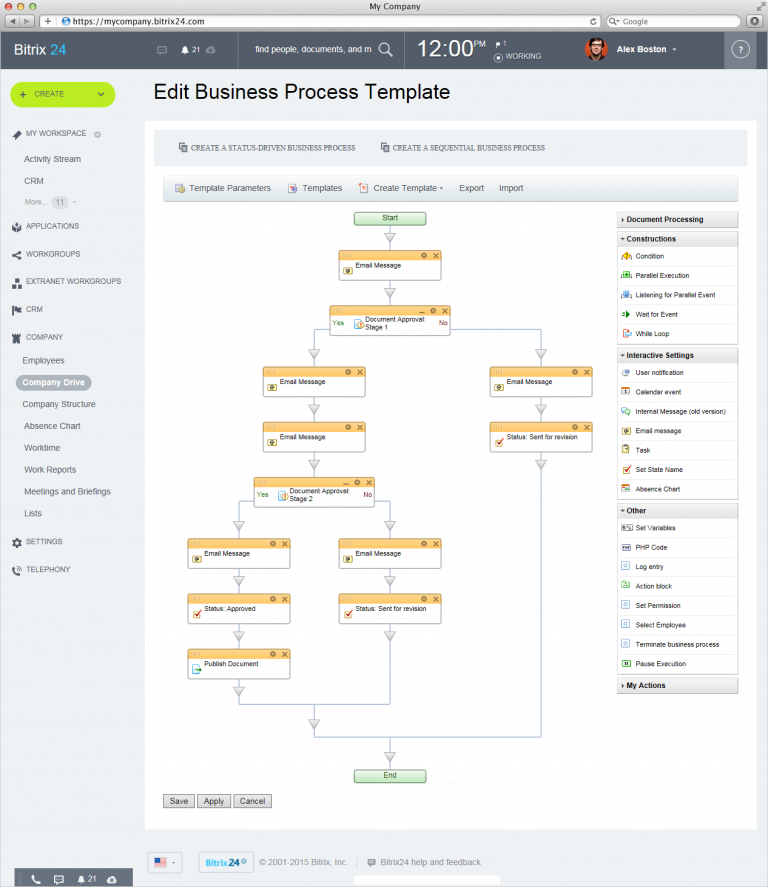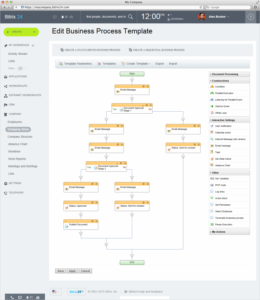 Want to learn the basics and software mechanics of Bitrix24? Then this training is for you! The course intends to teach the user the basic function and tools, techniques and configuration. The course does not intend to assess the user in any way e.g. tests, exams etc. But instead, it aims to educate the user regarding Bitrix24.


VIION is a team of professionals that specialize in Cloudy Bitrix and a box version of Bitrix. Among the 20 certified professionals on the team, Faraz Ahmed has been bestowed with the status of being the most valued team member. VIION can work with various types of team and we specialize in the following:
Creating and tuning business-processes for Bitrix24;
Developing Bitrix24 applications;
Connecting Bitrix24 (both cloud and box versions) with any ERP, CRM, BI systems. You may find detailed information about our projects here. Also feel free to contact us via email or Bitrix network. Our team of professionals will coordinate with you shortly with a reliable solution for your project. Let's get started!


Bitrix24 makes personalized themes for your business or your company. Custom colors, logos, and text exclusively as per your demands. We at Bitrix like to innovate your company.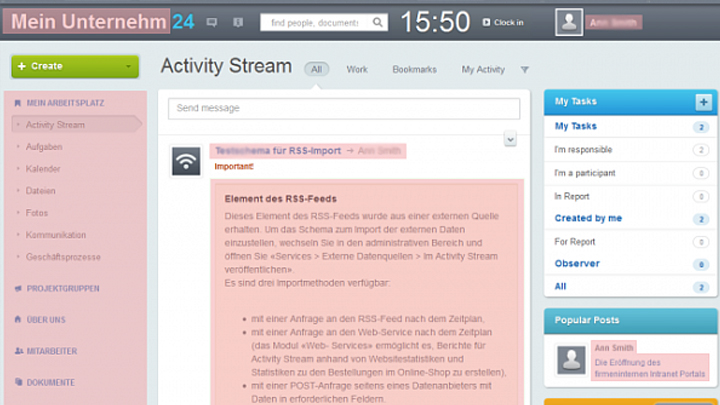 Bitrix allows you to combine the specialization of our CRM and develop the best CRM that fulfills the requirements of your business venture. Then it's simply a single system that operates as your social media communication system and E-Commerce notification system. All your customers are just a few clicks away! shopping cart social media concept.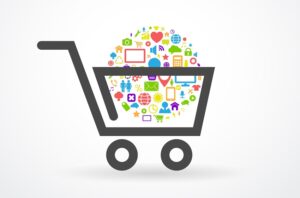 While other calling systems might demand a separate IP and added equipment. But Bitrix24 allows you to easily call national and international phone via a normal headset. Easy isn't it?
Bitrix24 has simplified the process of HRMS with its amazing tools and features that creatively innovate all your HR Management issues with ease.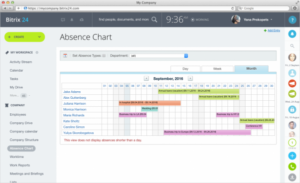 Modules Customization on Self Hosted Version
When the number of tasks number in hundreds then managing, assigning and keeping track of them all becomes something very difficult. Bitrix24 allows you to organize and manage everything from a single platform. All your CRM needs being fullfiled from a single software service. amazing isn't it?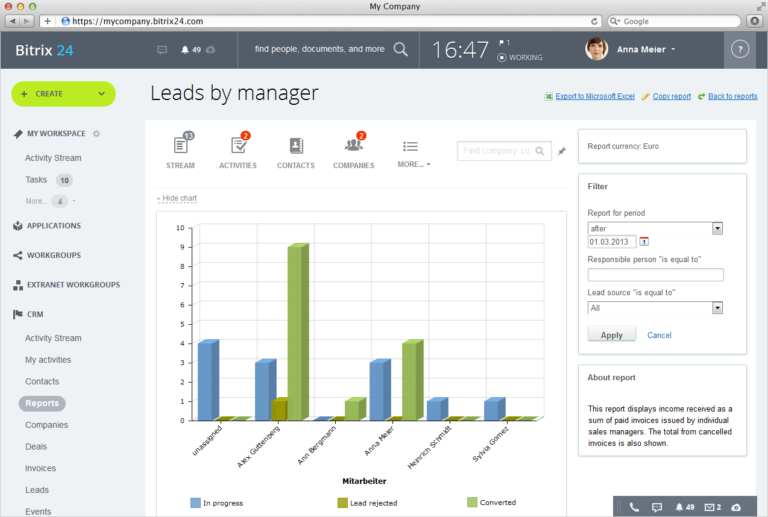 The Only Business Software You'll Need
Account Management Software For Small Business
Bitrix24 #1 free account administration software program for small business. CRM, tasks, documents, support, invoicing. Cloud and open supply (PHP), Android and iOS.
Basic Features
Unlimited free users
Cloud or self-hosted
Intranet and extranet
Full time, part-time, freelancers
HRIS and HRMS included Absence management Mobile, source code access, API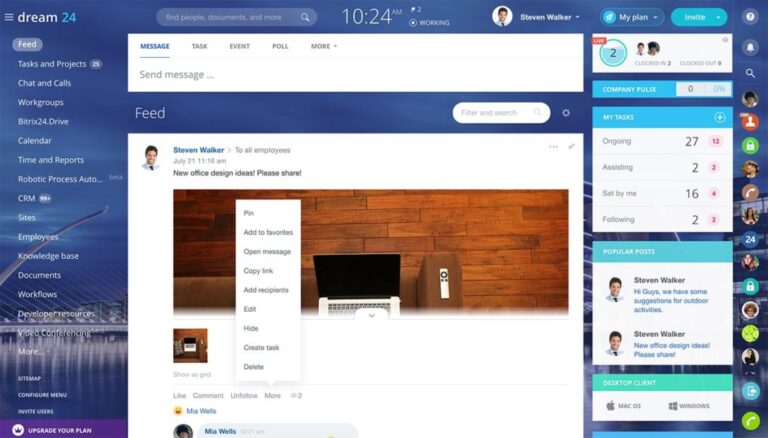 HR TOOLS
Employee directory
Customisable profiles
Company org chart
Departments and divisions
Role based access permissions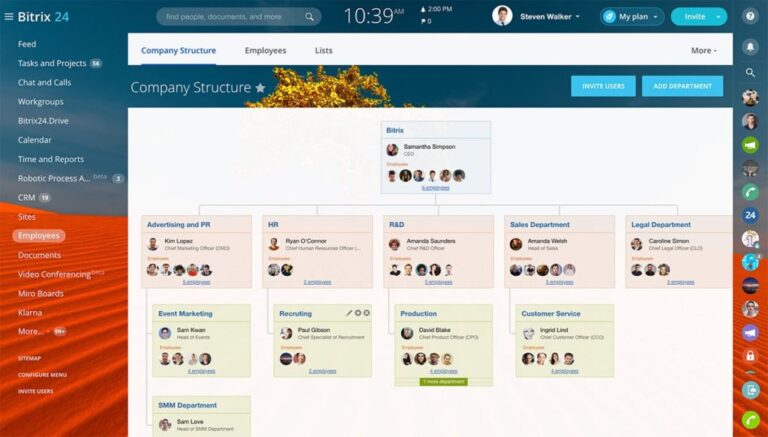 Social Workspace
Enterprise social network
Likes and badges
Work chats,
Calls
Video chat + videoconferences
Company pulse stats
Employee polls
Mobile app

Time Management

Minimum workday duration
Likes and badges
Work chats,
Hour tracking for tasks
Attendance report
Leave requests
Absence calendar
Private/Group Company calendars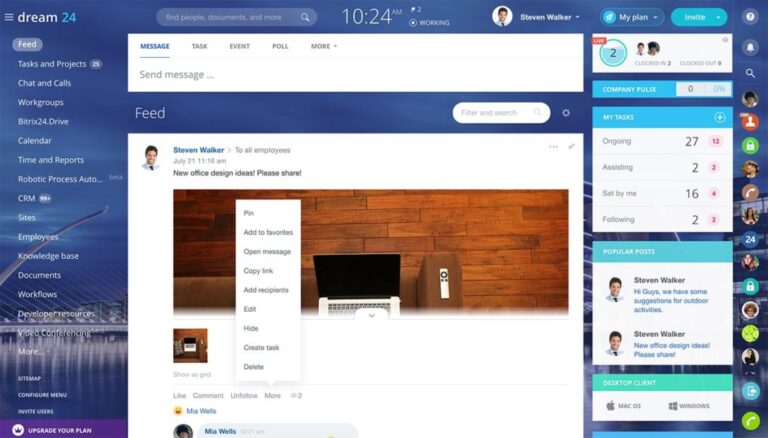 Collaboration and Communication
Communication channels
Document and file sharing
Work/project groups
Tasks management
Calendars and scheduling
Meeting room booking
HR workflow information
Learn more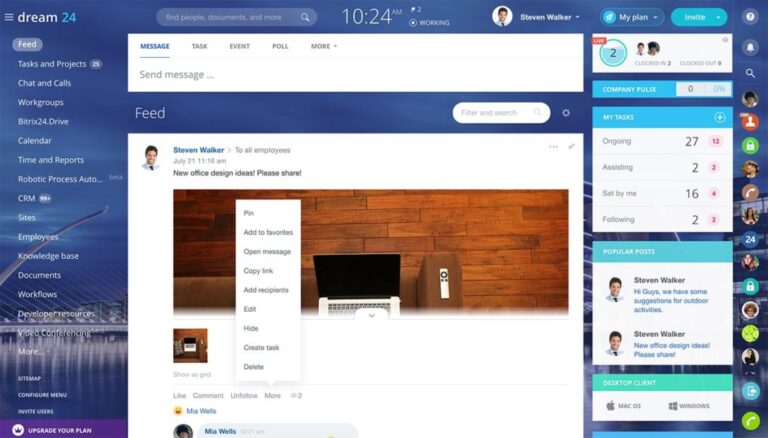 For greater facts about Bitrix24, head over to our education courses. We additionally have a amazing YouTube channel that covers each and every factor of Bitrix24, from income and planning to file administration and enterprise inside verbal exchange tools. To down load the self-hosted version of Bitrix24 that can be hooked up on your personal server and supply you get entry to to open supply code, please go to the Bitrix24 Self-Hosted page.
System For Employees
An worker administration device is meant to prepare HR and different departments' work processes. It typically consists of such points as complete worker databases, work time tracking, customized get admission to levels, and reporting. It is vital to discover an worker administration machine that would meet the wants of your business. In any case, it ought to grant fundamental HR functions.
The fundamental advantage of this device is that it helps limit the workload on HR departments and center of attention on different fundamental work. Automating routine and administrative duties spares an awful lot time that can be invested in developing your business. The quantity of time spent on conducting duties may appreciably vary amongst employees. So the use of an worker administration device answer lets in you to obtain readability on how to higher arrange their work processes.
Employee Management System: Everything You Need to Know
All you might need to organize people in your team is here. Bitrix24 has easy to adopt intranet with employee directory, BP processes, time tracking, absence managements, reporting and the rest of HR essentials.
Employee directory
The Bitrix24 employee management system provides you with an opportunity to create a comprehensive employee directory. It contains various search filters, which makes it easy to quickly find any person.
The profiles are filled out and edited by employees themselves. They receive access only to their personal information while their access to sensitive company data remains restricted. It significantly reduces the burden on HR departments.
The directory has an indicator showing whether a person is online or offline. You can send messages to your colleagues, start group chats or video calls.
Employee engagement
If you wish to increase your team productivity, you should keep your employees motivated. The Bitrix24 employee management system offers a range of tools that help your team members engage and actively communicate.
Use stress level management, milestone notifications, appreciation badges, goal setting, real-time communication apps, and more to keep your employees interested in their work.
Time tracking
With the Bitrix24 employee management system, HR specialists can track the working time of each employee. Consequently, it is easy to see who is doing what during their workday. It helps measure your team productivity and take appropriate action if needed.
The program also allows you to view the amount of time spent on each task, so you can set appropriate prices for your work.
Recruitment and on boarding
The system helps simplify recruitment and on boarding processes. HR managers can use custom fields to create candidate profiles that contain such information as contact details, education, experience, interview feedback, etc. There is no need to write new texts every time you have to send reminders about upcoming events. Using a range of preset templates can help save much time and effort.
Creating company knowledge bases allows your new employees to find everything they need to know to perform well at work.